Atlas Copco originated in Sweden and presently conducts business in 180 countries across the world. The company set up its legal entity in Poland 27 years ago, but has been doing business here through distributors since 1948. Their workforce in Poland counts more than 400 employees, split across mainly three business areas: Power Technique, Compressor Technique and Industrial Technique.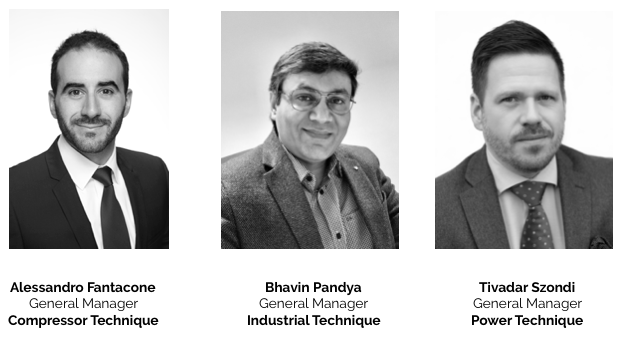 Atlas Copco works all around the world - can you explain how relevant Poland is for the company's overall business, and what makes it an attractive market for you?
AF: Very relevant especially if we consider the region of Central and Eastern Europe. The country's economy has been growing continuously for the last 20 years, and the industrial segment has taken huge leaps forward. Often times Poland has been among the pioneer markets for our innovative products and, generally speaking, it has a very strong foundation technology wise - from a broad array of IT companies to numerous students that choose to join the field.
TS: One aspect that makes Poland particularly interesting for us is related to Silesia, a region known for its coal and industrial character. The energy transition is changing the job market there and we saw it as an opportunity to use newly available workforce to develop a refurbishment center. We are essentially giving a second chance to large portable compressors and generators collected from all over the world, refurbish it and distribute it to our global customer base.
BP: Apart from being a growing market, Poland offers opportunities in all sectors – ranging from small & medium scale engineering companies to automotive to giant energy companies. Atlas Copco Industrial Technique has innovative solutions for each of these sectors.
The energy sector is indeed undergoing huge transformations - what does the direction towards a greener world mean for a company like Atlas Copco, how does it reflect in your work?
TS: It does influence the type of products we bring to market, and while it takes effort to redesign our range we see it as an opportunity rather than a burden. Allow me to exemplify: we are using new technology in our generators, just recently we launched an innovation called VSG - a variable speed generator where the alternator speed is not constant anymore, instead it changes based on load demand combined with and energy storing system. With this we are able to deliver fuel savings as high as 40%.
TS: One change has to do with electrification, very visible in our compressed air business area. Specifically, we are shifting from diesel driven portable compressors to electrical ones. Production is fully ready and we believe that in 2020 about 20% of our sales will be driven by electrical off site compressors.
BP: We have a lot to offer in this green revolution. For example, we support the development of electric vehicles by creating solutions for assembly of new-generation battery packs. Similarly, green energy sectors e.g. Wind rely on our hydraulic/pneumatic/electric tools in wind turbine manufacturing, on-site projects and operations & maintenance.
Speaking of innovation, Atlas Copco owns thousands of patents worldwide. Can you highlight a few recent innovations that affect the energy sector and the business need they serve?
BP: In the Industrial Technique business area, our main aim is to provide solutions that give competitive advantage to our customers e.g. reduced carbon footprint directly or indirectly, increased productivity, safer & convenient operations, data capabilities, etc. – in one word, sustainability: for instance, having the right joint quality on a gas / liquid transport pipe avoids leakages, which generates big savings overall.
BP: One area we are particularly focused at present on is connectivity, in other words Industry 4.0 (or Internet of Things). We work with many industrial and automotive companies, which are moving in the direction of smart factories. Our intention is to bring these smart factory concepts and solutions into field operations.
For example, in wind energy segment, the person is often required to work at height at wind turbine installation sites. Therefore, we offer smart battery powered tools, e.g. the latest SRB-HA tool, so that it is convenient (no cables or hydraulic hoses), safer and with data collection possibility for future needs. Another example is predictive maintenance. Collection of data can be of immense help in trend monitoring, which enables predictive maintenance - you will know when there is a risk of failure. Thus, you can come up with a solution well in time to avoid any production losses.
The energy sector is often seen as conservative - how have they been responding to these innovative products?
BP: I think, it is unfair to say that energy sector is conservative. Unfortunately, we find that the solutions providers in some of our type of segments (e.g. bolting) are more conservative with very old technologies and solutions. This is exactly what we have challenged. We strongly believe that the energy segment, especially wind and oil & gas, offers huge potential in smarter products and deserve new-generation Industry 4.0 solutions just like other industrial sectors we cater to.
When it comes to challenges, what would you say is most pressing that you are facing in Poland?
AF: We are most affected by the shrinking workforce, especially technicians. At this time we are highly focused on the service side of our business, in fact it is the area in which we want to expand the most in terms of future capabilities. We need specialized technicians that travel to customers, repairing and doing maintenance - so you see why the lack of people is a true concern for us.
Many companies here have signaled workforce as a concern - what is your way of addressing it?
AF: Priority number one is to ensure we do not lose people that are already onboard. For this we make available growth opportunities, training programs, and we put effort into designing fulfilling career paths. Secondly, to grow our base we rely on employer branding, referral programs and collaboration with universities.
BP: In Poland, we have collaborated with the Silesian University of Technology. For instance, just recently we opened an Atlas Copco studio in one of their labs in mechanical engineering faculty. Additionally, we offer them guest lectures or workshops. It is a win-win solution - a valuable learning opportunity for students and a source of talent for us.
AF: We are also paying more attention to diversity within our workforce. By 2030 we want 30% of our employees to be women. We are consistently looking for ways to make this environment more attractive to women, for instance by offering flexibility in terms of working from home and offering specifically designed development programs.
Looking at the coming two or three years, what would you say are the priorities for each business area?
AF: There will be a high focus on CO2 reduction, our goal is to lower operational emissions by 50% by 2030 - this will include transport, reduction of waste and water consumption. Other than this, the ambition is to develop more products that reduce emissions and help our customers to save energy
BP: We plan to leverage our knowhow from other sectors and apply these smart solutions in energy, with a special focus on making field operations smarter. Our plan is to offer solutions that are convenient (lighter tools without 'tail' in form of hoses/cables/pipes), safer and with full data capabilities. Service and innovation are our biggest strengths and continued priorities.
TS: One challenge we are having in the Power Technique business area is to develop a dealer network in Poland. We are missing an entrepreneurial segment here that would be willing to try new ways of distributing products and increasing market penetration. So one goal is to figure out a way to overcome this.