The renewable energy sector is the one in which Romania has seen the most spectacular investment boom over the past decade – mostly from 2010 to 2016, especially for wind and solar power. The country boasts Europe's largest onshore wind park, namely the 600 MW Fantanele-Cogealac, in the region of Dobrogea.
Romania has one of Europe's highest potentials for commercial renewable energy sources (RES), as indicated in a 2017 IRENA study. As such, the country should be able to properly contribute to the EU's collective goal of 32% RES by 2030. Romania has already surpassed its 2020 obligations of 24%, reaching 24.6% of renewables in final energy consumption (including hydropower and biomass) by 2017 already.
The fact that last year's draft National Energy Climate Plan 2021-2030 submitted by the Romanian Government aims at a meek 27.9% target for 2030 has been widely criticized and eventually met with a rebuttal by the European Commission, in its recent public appraisal of the member states' NECPs. Thus, the Commission has strongly suggested a 34% target for Romania's RES by 2030.
A Stormy History
For a good while, Romania saw remarkable development of RES investments. That exceptional increase took place on the back of a generous support scheme, introduced in 2008 (Law 220/2008). The secondary legislation became available only in 2011, after the European Commission gave its state aid approval. The scheme created a mandatory quota system, coupled with a trading scheme of green certificates (GCs).
However, only two years into the application of the RES support scheme, the government decided to slow down the pace of investment in renewables by curtailing the support scheme through various legislative measures.
"In terms of investment a credible legal framework is essential, and unfortunately what we have seen in the renewable industry was a pendulum policy: from very advantageous (perhaps too advantageous) facilities that were offered in 2008, when a large number of green certificates were issued, to the sudden change in legislation that severely affected the value of the investments. The support scheme ended in 2016 and there is currently a surplus of 13.5 million green certificates without a buyer - the total value is about 400 million euro, an amount that final consumers essentially owe to producers of renewable energy." Viorel Lefter, President, PATRES.
A Ray of Hope
One hopeful development in the RES sector comes from the Energy Ministry's intent to introduce the risk-mitigating instrument of contracts for difference (CfD) for investments in low carbon emissions sources – i.e. nuclear power and RES, as well as, for the longer-term, carbon capture and storage (CCS). CfDs are a different sort of state aid, much more competitive, well able to minimize the cost impact on the end energy consumers, especially for RES.
Specifically, the government is considering allocating €125 million a year to CfDs for RES capacities, which are to be predefined according to a national RES zoning plan. In light of the very good experience of other EU countries (especially the UK, but also, more recently, Poland) for wind parks, which have closed such contracts through competitive allocation rounds at surprisingly low levels. Thus, the bids in the November 2018 Polish tender for wind onshore were as low as €35.5/MWh, with an average price of €44.8/MWh, according to the action supervisor, the Energy Regulatory Office. The successful projects must be built by May 2021.
It is, therefore, paramount that the Romanian Government implements as quickly as possible the legal basis for contracts for difference, given the importance of such an instrument to support the investment in clean energy. The date advanced by the Energy Ministry is December 2019.
"Our proposal for the Government is to develop an alternative support scheme, that would need to cover two different aspects. One would be dealing with new projects, whereas the second would address existing investments that rely on green certificates. We have proposed a feed-in premium scheme and the possibility to move our installed capacities under this new model. If this happens it will give us clear visibility on future returns for the current installed capacity and resolve the issues that we are facing at present." Eduardo Nieto, Country Manager, EDP Renewables Romania
Welcome Prosumers
There is also palpable progress with regard to prosumers, i.e. active consumers, able to inject their surplus electricity into the distribution grid. The Environment Fund Administration (AFM), which operates within the Ministry of Environment, is offering funding to household consumers interested in co-financing rooftop photovoltaic (PV) systems.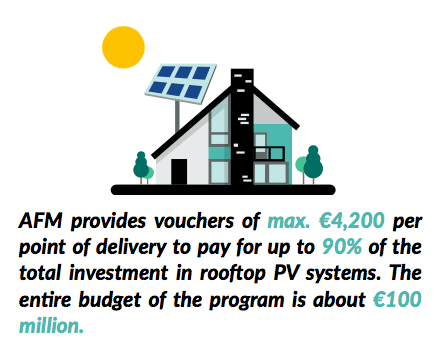 In addition to being able to access AFM funding, as per Law 184/2018, the prosumers are exempted from paying taxes and excises for the electricity injected in the distribution grid. In return, they receive a fixed price, calculated as the average day-ahead market price of the previous year, independent from the current market conditions.
Now, one piece of criticism directed at the new prosumers program has to do with the seemingly low level of their aggregated capacity: 750 MW. Another one has to do with the practicalities of unfolding the program itself. Paul Varga, CEO and founder of Green Seiro, a service company in the PV sector, worries that "the companies responsible for installing photovoltaic panels, like ourselves, must first make the entire investment themselves and only after that they will be able to recover the money from the state. This is very problematic, to take on such costs for multiple customers and wait eight months in order to recover it from the state. No suppliers will give you such long payment terms, so this setup is far from ideal."
Pushing Technology
This goes hand in hand with the ostensible trend of steadily decreasing prices for RES technologies – especially solar PV panels and wind turbines. In effect, the international experience of the past couple of years show that, in the right regulatory environment, RES investment can take place with no support scheme whatsoever.
This point is aptly reinforced by Ondrej Safar, Country Manager of CEZ Group, the owner of the largest onshore wind park in Europe: "Now that the price of technology has gone down so much, it is becoming possible for investments to be feasible just based on the sale of electricity. This is great news because it attenuates the risks associated with changes in legislation. We are no noticing at present many companies coming back to their plans and looking into options to develop previously frozen projects. Going forward it will depend very much on the market price of electricity and how stable it will be. In the last two years the prices have steadily increased, and if this continues it will give investors strong reason to moveahead."
Other players are cautiously optimistic about the same issue: "The cost for 1 MW of wind power has become as low as €800,000 - 900,000, compared to ten years ago when we paid approximately €2 million. On the photovoltaic side, the price of one MW is now around €600,000 whereas the first one we installed cost us €3.2 million. The price of energy has also gone up somewhat, so it is becoming increasingly feasible to develop a profitable project without the need of a support scheme, but in my opinion that time has not yet come," says Aurel Arion, CEO of Renovatio Trading.
Nonetheless, for this to happen inRomania, a country with such an outstanding renewable energy potential, probably the most important regulatory change that is needed is the introduction of PPAs, which, as indicated, are currently banned under Law 123/2012.
ANRE is actively working to make PPAs available in Romania. Zoltan Nagy-Bege, Vice President of ANRE: "Given that only companies that are already producing and hold a license are able to trade on OPCOM, this obligation made it impossible for renewable energy producers to close PPAs and secure financing for their projects. This is one of the reasons why Romania has not seen new capacities developed in recent years. Since last year we have been working on a solution for this, namely a platform within OPCOM where companies can trade energy even if they have not reached production phase yet. We still have some small hurdles to overcome but most likely the platform will be available during the summer of 2019."
Apart from incentivizing regulation, another thing that must happen in order to lower the cost of RES integration is the development of infrastructure.
Indeed, at any given point in time, the system has a technical limit to being able to cope with variability in conditions of stability and resilience – a magnitude. In order to increase that, the grid must be reinforced and rendered more flexible. After a few years of stagnation, a positive dynamic seems to have set in this respect, as Transelectrica has started to attract more funding to modernize the grid.
A Field of Possibilities: Biomass and Biofuels
Biomass is the fuel of choice in the countryside, where almost half of Romania's population resides. Indeed, most heating and cooking takes place using fuel wood. Properly monitored and collected, such wood is being accounted for as a renewable energy source, thus contributing to the country's overall share of RES.
There are many uses and many meanings to biomass. One important thing is that the biomass industry develops in a sustainable manner, without causing deforestation, displacing food crops or resulting in carbon emissions. Consequently, there are several challenges to the sustainable biomass industry: it must be environmentally friendly, climate responsible, socially acceptable, and cost competitive. Even under all these constraints, Romania is deemed to have an exceptional potential for sustainable biomass. However, other than the use of raw firewood, there is barely any industrial development in the biomass sector.
"What Romania does not really have at the moment are biomass and biogas projects, which is atypical in the EU. We do have the raw resources technically, but in the case of biomass, unlike in the West, we are not able to make full use of them because of the ageing heating and pipe systems. Similarly, in the case of biogas the resources are available, there is much organic waste in households, but we need to figure out a system for them to be collected, and have the proper technology to process them. The legislation in the field also needs to be thought out in a way that allows for profitability" Johannes BECKER, Partner, TPA Group
One crucial issue in ensuring the needed biomass fuel chains has to do with building a functional system of waste disposal in Romania and developing technologically viable solutions of turning waste into energy. Sebastian Metz, General Manager of the German-Romanian Chamber of Commerce (AHK) shared his thoughts on the matter: "We are working to develop the waste-to-energy market, a massive problem right now in Romania, especially considering current recycling practices. Clariant and GETEC are working together on a bioethanol facility, but they also face the same challenge of recycling agricultural goods. Preliminary steps need to be taken to grow the biogas and biomass industries, and closer collaboration between the Ministries of Energy and Environment is paramount in this respect." As such, the sustainable biomass industry also needs research and innovation, to allow for development based on the most efficient and environmentally friendly technologies.
Radu Dudau, Energy Policy Group