CEE's most prominent real estate market has not lost its lustre with the passing of me. Poland saw its highest transaction volume in 2020 and the capital, as well as secondary cities, are developing at a very swift pace.
Warsaw's consistent purchasing power growth (currently sitting at ~ EUR 11,600 per capita) keeps raising the bar in terms of residential and retail demand. Office yields are positioned at 4,5% and industrial at 5,75%, below Romania but well above Western European figures.
OFFICES
The first three months of 2021 have again proven challenging for both the economy and the real estate market, including the office sector. Following the announcement of another lockdown in March of this year, the vast majority of companies have once more adopted a remote working mode, while others have been forced to significantly increase health and safety measures against COVID-19. As a result of further unexpected changes, office market dynamics have altered considerably.
This is reflected both in the activity of developers, with 420,000 sqm currently under construction - the lowest volume in 11 years - and in the lowest demand for office space on a quarterly basis since 2010. In addition, the vacancy rate, which was expected to rise even before the pandemic, hit 11.4%, the highest rate since 2017. However, the limited pipeline for the next few years may positively offset the vacancy rate growth.
A trend that emerged both during the global financial crisis of 2008-2009 and the ongoing pandemic is the increased supply of space for subleases because of tenants' attempts to reduce their office size. The last few months, however, have seen a slight slowdown in the growth of such spaces. Currently, there are over 120,000 sqm for sublease in Warsaw – 10,000 sqm less than at the end of last year. Such a solution is an alternative for companies operating in the city. It offers the possibility of signing a contract for a shorter period than in the case of a traditional lease agreement. However, there are certain stipulations connected to the subleasing of office space, i.e., in terms of fit-out and lease terms. Therefore, subleases are an option for a narrow group of companies. Flexible space solutions are another opportunity for companies which are turning away from the traditional, long-term lease.
Many tenants who have opted for a full or partial home office due to the pandemic are increasingly bold in their plans to return to the office, with H2 2021 as their realistic deadline. Some tenants, especially smaller ones, often opt for flex offices due to uncertain times. Similarly, large companies use them as a temporary solution while deciding on their target office, for recruitment processes or as a viable alternative to traditional contracts, understanding the premium they must pay for exibility. Currently, the occupancy of flexible offices in the central districts of Warsaw remains at a stable, but reasonably high level. At the beginning of the pandemic, a strong turbulence in the flex sector could be observed, which translated into dynamic changes in the rates per workstation. Currently, the flex market is in a phase of price stabilization, and it can be assumed that the worst is now over.
In terms of demand for traditional offices in Warsaw in Q1 2021, the total was 109,300 sqm - 20% less than the volume of tenant activity recorded in the same period in 2020. Such relatively low levels were caused by uncertainty about the size of the office after a return to the "new normal".
Currently, tenants are, often, choosing to extend their lease for a short period, and wait for things to return to normal before making long-term commitments. The exibility associated with both expansion and reduction of leased space is extremely important. This type of security is exercised in the case of signing contracts for large offices, while with smaller companies, landlords are less inclined to reserve additional space. It is worth noting, however, that a slowdown in office take-up dynamics on a quarterly basis does not necessarily mean that this will continue on an annual basis. Ongoing processes, together with companies from the business services sector increasingly interested in the Warsaw market, may have a positive impact on the volume of lease transactions in the following months.
The highest transaction rents for prime properties in the city center are stable at EUR 18 to EUR 24/ sqm/ month, and outside the center stand at EUR 16/ sqm/ month. Over the next few months, we can expect current rates for prime office spaces to be maintained. Rents in some B-class properties will remain under downward pressure.
RETAIL
The retail market in Poland has transformed vastly over recent years; many new trends and processes have evolved along with the challenging retail environment, which has also been affected by the outbreak of the COVID-19 pandemic. Shopping centers formed the basis for the development of the retail market in Poland; however, interest in other formats has increased noticeably with me.
Back in the 1990s, the prevailing retail schemes were hypermarket-driven shopping centers and the few small shops in the attached galleries were merely side note additions. As competition increased and consumer preferences changed, the offering of such galleries was substantially expanded and enriched by entertainment, gastronomy, and leisure facilities. Shortly after the first shopping centers appeared, big-box retail warehouses and retail parks began to expand, mostly adjacent to already existing shopping centers located on the outskirts of Poland's major agglomerations.
Over time, developers discovered opportunities in regional cities and later in medium-size towns, adapting concepts and offerings to the needs of local markets. As a result, the share of major agglomerations in shopping centers and retail park stock decreased and that of the smallest cities increased.
The outbreak of the COVID-19 pandemic has certainly slowed construction activity in Poland. Nevertheless, developers here completed nearly 148,000 sqm of modern retail space in large scale projects (GLA>5,000 sqm) in the first half of 2020. Of that new supply, 67% was delivered in eight new retail parks and three extensions of existing schemes. 449,000 sqm of GLA is still under construction with initial completion dates set for 2020 and 2021. Retail parks account for nearly 26% of that volume. In parallel, the market for smaller, convenience-based assets in Poland is doing very well. In H1 2020 alone, convenience center stock grew by nearly 39,000 sqm of GLA in 13 newschemes.
The retail market is constantly evolving. Purchasing power growth (on average 4% p.a. over the last ve years) and increasing retail spending (although temporarily disturbed by the COVID-19 pandemic), coupled with changing expectations of customers regarding quick and convenient shopping, are the key drivers for the further development of the retail market in Poland. In an era when time is often of a greater value than material things, the appetite for quick shopping increases. This trend is reflected in the growing share of online sales and the increasing popularity of smaller, convenience-based assets. A progressive increase in e-commerce sales has been noted in Poland for several years. The dynamic changes to the retail environment have been accelerated by the pandemic and the closing of shopping centers has resulted in e-commerce growth ballooning. The share of online sales in total retail sales reached a peak at 11.9% in April 2020, which was largely due to COVID-19 restrictions being introduced in physical stores. As limitations in those stores eased, e-commerce fell back to 9.1% in May, 7.7% in June and to 6.5% in July, proving that traditional retailing is still resilient. Nevertheless, omni-channel retailing is gaining importance; challenging physical stores, embracing the digital transformation, and forcing them to evolve.
One of the most visible trends, which has manifested itself to a greater extent during the pandemic, is market polarization between large shopping & leisure centers and small, convenience- based retail assets. COVID-19 has temporarily weakened the passion of the biggest (and usually most crowded) shopping centers, at the same time highlighting the attractiveness of smaller projects, where consumers are able to satisfy their basic needs quickly and with limited social exposure. Locked at home, consumers turned to local options. Some have rediscovered their neighbourhoods and begun to appreciate small family-run businesses and local products.
INDUSTRIAL
At the end of March 2021, total existing stock in Poland stood at 21.4 million sqm. The 'Big Five' markets still account for over 80% of total stock. The Tri-City market is gaining in significance and should cross the 1 million sqm threshold in the coming months, further illustrating the increasing attractiveness of northern Poland and the Baltic seaports.
The robust demand for industrial space and positive expectations have been driving a construction frenzy in Poland. The market is powering ahead with a total under-construction pipeline of 2.3 million sqm at various stages of development. It means that in the first quarter alone, developers launched new projects totaling 1.2 million sqm. Almost 70% of total constructed space had already been secured with pre-let contracts, which augurs well for future vacancy rates. The coming months will see a strengthening of the 'Big Five' markets, as almost 70% of currently constructed space will supply these locations. Given its extraordinary demand, Poznań is the unquestionable leader in terms of construction pipeline – 430,000 sqm were being built in this market at the end of March.
Rents have remained relatively stable. Warsaw Inner City and other urban locations are the most expensive markets in Poland. In Warsaw, headline rents range from EUR 4.3 to EUR 5.25 /sqm/month. The most attractive rents for big- box units are still to be found in out-of-town locations in Central Poland (EUR 2.6 to EUR 3.5 / sqm / month).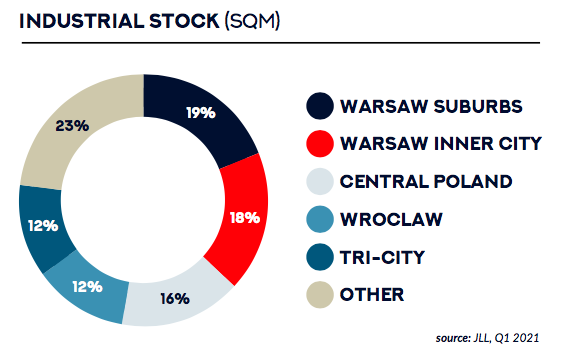 The record-breaking number of investments in the industrial sector, seen in 2020, prove that this segment is one of the "winners" against the backdrop of the pandemic. Activity has remained high in 2021. Investment turnover totaled EUR 391 million and was the second best-ever result for a first quarter. The largest transaction was the acquisition of a cross-country portfolio by Ares Group from Panattoni. Regarding single asset deals, one of the most significant was the purchase of BTS Castorama in Stryków, sold for EUR 65.5 million by Tritax to Savills Investment Management.
At the end of Q1 2021, prime warehouse yields for multi-tenant schemes with 5 year lease agreements, are considered at around 5.25% (Warsaw Suburbs, Wrocław). The ongoing Warsaw Inner City projects stands at approx. 5%. However, there is a lack of transactional evidence for such compressed yields yet. Assets with longer agreements (10 years) are trading at sub 4.50%, nevertheless, exceptionally long leased assets (15 years or longer) can be at around 4% with further compression on the horizon.
RESIDENTIAL
The Polish living sector is currently experiencing an interesting phase, as it approaches another major stage in market institutionalization. The vast majority of housing stock in Poland is still privately owned. The institutional part of the real estate sector for rent is relatively small and is concentrated in the large cities. Yet, the number of rental assets owned by institutional players grows dynamically every year.
Social changes serve this development to a large extent. The generational shift and associated changes in attitudes towards renting make the symbolic need for ownership less and less convincing, while the rationale of higher mobility and more financial liquidity becomes more apparent. At the same time, investors noticed the potential of an equally growing "generation rent" in Poland, i.e. people that cannot anymore afford to purchase a flat for owner-occupation.
For these reasons, we are in a very interesting momentum on the market. The growing interest in housing projects for rent by institutional investors is becoming more and more visible. The living sector covers the entire range of premises for rent – flats, student and senior premises. Despite the impact of the COVID-19 pandemic, the scale of investment in rental housing, student accommodation and retirement homes has increased significantly.
Poland offers scalable business, based on its polycentric city structure which offers investment opportunities in more than just one central city. Investors can count on higher initial profitability than in Western and Southern Europe or the Nordics. The Polish market has a high potential for growth in rents and capital values. Moreover, investors count on yield compression over the next years.
This article was originally published in Real Estate in Romania & Poland 2021 report, available in full here.