The first industrial production of oil in the world was registered in 1857 in the Romanian Principalities of Wallachia and Moldova: 275 tons, most of which was extracted in Dambovita, Prahova, Bacau and Buzau regions. In the same year, the first oil refinery was commissioned in Ploiesti , while Bucharest became the first city to use kerosene for lighting.
For the following decades, until 1900, the Romanian oil production ranked fifth in the world, after the United States, Russia, Mexico and the Dutch Indies. The modern oil & gas industry is well aware of its notable past: "In Romania specifically, energy is a proud industry, with a 160 year- old history and the first refinery in the world, an outsourcer of know-how, talent and equipment. We should not let the world forget, and we should not ourselves forget" says Catalin Nita, Executive Director of Oil & Gas Employers' Federation (FPPG).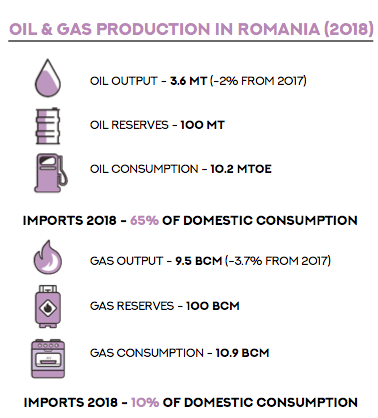 Oil & Gas Market Structure
While virtually all domestic oil production is done by OMV Petrom, the landscape of gas producers is more diversified and competitive. Production is dominated by far, by two major players, Romgaz and OMV Petrom, with almost 95% of output between them, with the rest split among several small independent producers. At a relatively constant level of gas demand over the past years, any drop in domestic production must be compensated by increasing imports. As of 2017, there were seven importers of natural gas in Romania – sourced entirely in the Russian Federation.
"Many generations will come after us, so we should make sure to use resources as mindfully as possible. Gas is a fossil fuel that will be exhausted over time, and in Romania the quality of methane gas is among the highest in the world (99% pure methane),even more reason to be mindful about how we extract value from it." Adrian Volintiru, CEO, Romgaz
The approximately 10 million tonnes of crude oil used yearly in Romania are processed in the country's four remaining refineries – out of which only three are producing fuel, totaling a capacity of 12 million tonnes/year (down from no less than 34 million tonnes in 1989): Rompetrol's Petromidia, in Navodari (owned by KMG International), OMV Petrom's Petrobrazi and Lukoil's Petrotel, both near Ploiesti. Vega refinery, also owned by Rompetrol, is the country's sole producer of n-hexane and bitumen.
Most oil products thus produced are for a domestic market of about 9 million tonnes/year, with the rest – especially diesel and gasoline – exported in the neighboring countries. The Romanian fuel retail market consists of about 2,600 stations: 35% of this market belongs to OMV Petrom, followed by MOL, Rompetrol, Gazprom and Socar. About 600 fuel stations are independent.
Untapped Potential
Romania has significant gas reserves, both offshore and onshore. Offshore, the estimates of the finds so far add up to more than 100 bcm. Onshore, the discovery made by Romgaz in 2017 at Caragele field, estimated at 27 bcm, is the largest discovery over the past three decades. Besides, there is a virtual consensus among geologists on the untapped potential of the country at depths greater than those drilled so far. Tapping into these resources – aside from the uphill battle with the natural decline of production – requires tens of billions of euros worth of investment, as well as a friendly and incentivizing regulatory environment.
"Onshore companies currently ensure more than 90% of Romania's energy independence in terms of natural gas supply. In terms of geology, we believe the potential for deep onshore projects is underestimated at the moment, as there are massively unexplored areas and most of the data we have available dates back to the 1970s and 1980s. To understand the true potential, there is a great need for further investment in exploration." Saniya Melnicenco, President, ROPEPCA
Enhanced recovery techniques and field redevelopments have great potential against the background of mature and fragmented fields of the country. In fact, some players are already capitalizing on this potential. In the crude oil sector, Mazarine Energy has developed a business model centered around the concept of redeveloping concessions it has bought from OMV Petrom. "We managed to grow production in some of the fields by up to 50% and restarted production in other four concessions in the first year with minimal investment. Thereafter we started applying international redevelopment best-practices. We began acquiring 3D seismic data and concluded that our bet was right, there were additional oil resources that had not been noticed before, which amounted to a couple of million oil barrels," said Spencer Coca, the company's Country Manager.
The success of this sort of operations depends also on the associated ecosystem of oil service companies. In effect, oil services are critical in satisfying the operator's need of reducing production costs. "Romanian deposits are typically mature with a natural decreasing production. The resources left are located at far greater depths, which means the investments required to reach them are also higher. The idea pursued by many producers in this circumstance is to use the most advanced technologies and increase the recovery rate," says Vasile Mogos, General Manager of CDI Oilfield Services.
Issues Faced by Producers
Meanwhile, though, ANRM (National Agency for Mineral Resources) must modernize its methods so as to facilitate preliminary knowledge and data access by prospective investors. The agency still operates under an outdated secrecy law, with unjustifiably restricted access to geological data – not to mention the lack of digitization of archives and the ability to access data online, which is an endemic issue of the Romanian administration in general.
Another type of hurdle stemming from unclear or inadequate legislation is the issue of land access for geological exploration works, in which the operators receive little support from the state in exercising their legal right of land access for provisional works. In effect, the exploration companies must get the legal agreement of each and every individual land owner, which, for a typical onshore block, means hundreds, if not thousands of owners. Any disagreement in practice results in protracted litigation in court, which makes exploration works exceedingly time and capital consuming.
"For exploration companies one challenge is always land access as we need to cover large contiguous blocks with seismic surveys. The Petroleum Law grants these access rights but an involved and lengthy process is required to exercise these rights. In our EX-1 block for example, we estimate that we'll interact with as many as 3000 different land owners or lessees. We must knock on every door to obtain their agreement." Phil Christian, Country Manager, Sand Hill Petroleum
ANRM launched the 11th Licensing Round which opened up 28 new perimeters
Unlike its neighboring states, Romania has not had a licensing round for almost a decade. The 11th licensing round has been long awaited, and yet repeatedly postponed on account of various regulatory grounds. In July 2019 this waiting came to an end, as ANRM (National Agency for Mineral Resources) has announced that it will open up new perimeters for exploration and production this year: 28 in total, out of which 22 onshore and 6 offshore.
The industry is hopeful about this: "We know that the National Agency for Mineral Resources has been working on a new licensing package, which will open up 28 perimeters. The 11th licensing round was just announced this summer. Now there is a great window of opportunity for Romania to benefit from new investments that should not be missed. That's why issues like data access and declassification, as well as the consolida on of the National Agency for Mineral Resources should be addressed to make the next licensing round successful,`` added Saniya Melnicenco, President of ROPEPCA.