Not unlike its endowment with natural resources and production capabilities, Romania boasts a strong array of engineering, technology and IT companies. They range from foreign giants such as Microsoft, Oracle or Siemens to locally born and bred success stories such as Eximprod, Elsaco or Enevo, to name but a few, working in tandem to make processes, infrastructure and energy consumption overall more efficient.
Forging Ahead Yet Lagging Behind
Romanians like to boast about their top level internet speed, and general prowess and know how as far as technology is concerned. It is with good reason it seems, given than Romania ranks 29th globally according to Bloomberg's 2019 Innovation Index, six spots up from the previous year. IT has become one of the country's strategic sectors, outpacing key industries such as agriculture and construction as a share of GDP.
"The overall pace of innovation has accelerated. I believe that the current trends electrification, decentralization and digitalization, will continue to create new challenges and opportunities for the energy sector." Gheorghe Manole, Owner, Eximprod
But Romania still has a very long way to go in climbing the ranks of true global engineering and digitalization leadership. A recent EU report (Digital Economy and Society Index, 2019) showed that Romania's performance related to the digitalization of the economy is lagging behind. The country ranks 27th out of the 28 EU member states, with a performance well below the EU average.
While companies are ready to offer state-of-the-art technology, there is the question of adoption, especially in the energy industry which is known to be rather conservative. "The reason most often is simply inertia, companies prefer to use older technologies that have a history of proven stability. However, in recent years we have seen an increased interest in new technologies and encountered more knowledgeable partners of discussion. Companies should allow themselves to be visionaries in this matter because the leaps in technology can add to their efficiency and generate remarkable increases in their revenue," explained Stefan Baciu, Country Sales Manager at SAS.
With concepts such as IoT, blockchain or smart cities ever more present in business communities everywhere, it is clear that Romania needs to speedup its adoption pace in order to grow its reputation as a technology hub. But where does most opportunity lie presently for the country?
Reaching Energy Efficiency
Romania has very weak energy efficiency indicators at the moment and also carries a historical burden. Much of its infrastructure was built in the 1960s and 1970s based on explosive growth plans and energy requirements, but after the industry collapsed the country was left with oversized power plants that run inefficiently. Government priorities have usually revolved around maintenance and while innovation and new initiatives have often been brought up, they rarely resulted in concrete action.
"The potential for energy efficiency in Romania, based on energy audits that were conducted in 2018, amounts to approximately 3 mtoe/year. To better put this in perspective, this potential represents the yearly energy consumption of the entire city of Cluj-Napoca, the second largest in Romania." Andrei CECLAN, Co-Founder, Servelect
The problem of inefficiency spills further into the economy. Andrei Ceclan, Co-Founder at Servelect explained that "There is a strong correlation between energy inefficiency and energy poverty - many cities are having difficulties in taking on the costs of energy, but at the same me, there are many energy losses taking place in the systems." This sheds a glaring perspective on the issue of vulnerable consumers for instance, which was at the root of GEO 114/2018. While subsidies have so far been the preferred solution, using technology as a means to reduce inefficiencies in the system presents itself as a more sustainable, long term plan for the future.
These drawbacks and challenges are widely acknowledged by the private sector and authorities alike, and in turn have engendered opportunity for growth and investment, with an overall optimistic sentiment permeating the industry.
Energy efficiency solutions range from buildings management, both residential and commercial, to power generation capacities and transmission networks. SCADA and BMS Systems are widely used and often represent strategic directions for engineering companies. Speaking about the new strategy employed by EnergoBit, Florin Pop explained that the new vision "is more technical and it relates to the appearance of smart solutions and generally the trend towards digitalization. [...] It is a rather natural process in our evolution as a company, our DNA remains the same but we strive to get closer to what the market needs at this particular point in time."
Similar sentiments have been echoed by many market participants and the results are starting to show. One note-worthy example is that of Lisscom, an automation focused company that has completed an extensive project in Cluj. This involved the installation of BMS systems across 73 public buildings (universities, high schools, gyms, student dorms, kindergartens etc.) and the results have been remarkable if we consider that the administrative spending has been reduced by about €1,5 million "The costs were generated by the fact that every institution had individual contracts with providers of installation and maintenance services, whereas the BMS system is able to take on all these tasks and provide a single point of management," explained Stefan Opris, Marketing Director at Lisscom.
"Humans tend to be subjective in estimating the necessary heating levels, whereas BMS systems are based on automatic measurement of objective data, retrieved from all areas of thebuilding. The systems allow you to set up a working schedule and in this way achieve significant savings. In short, the BMS allows you to consume only the amount of energy you need, and only when you need it." Stefan Opris, Marketing Director, Lisscom
The power generation field also bears tremendous potential for optimization. Corneliu Bodea, CEO of Adrem explained: "The prospect until 2030 reveals the need to replace some of the production capacities that will become obsolete; for example, charcoal-based power generation centers, like Hunedoara Energy Complex and Oltenia Power Plant as well as others, will require modernization or they will need to be shut down and rebuilt altogether." One challenge technology companies need to respond to, however, is the fact that these facilities were not originally designed to work online. Instead they were thought out as isolated processes and nowadays, with technologies such as IoT, the possibilities for interconnection are tremendous.
The Advent of Decentralization
Smart grids have received a great deal of attention, mainly because of the very particular challenges that they pose. Decentralization is one of the most important ones, and it is closely linked to the evolution of the renewable energy sector in Romania, more precisely the disruptive trend of prosumers. They are changing the local landscape in the sense that production is becoming more and more scattered and power is generated somewhat uncontrolled, which represents a great challenge for classic transmission and distribution systems. Mihai Versescu, PATRES pointed out that "The Ministry of Energy through the National Climate Change Plan has introduced a limit of 750 MWh by 2030 for prosumers [...] It seems that if this limit is exceeded, system imbalances could occur because the network is rather old, which signals a need for additional investment in the field."
Transelectrica has been struggling to adapt to the national power grid to these new realities but the progress has been relatively slow. Similarly, the installation of smart meters which represent a stepping stone for smart grids has seen signi cant delays - Romania aimed to have smart meters installed for 80% of its population by 2020 but the target has recently been delayed until 2028.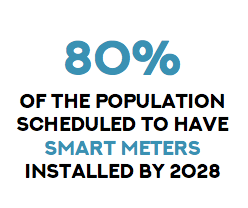 Decentralization is also impacting other sectors of the industry, such as energy trading. Restart Energy, for instance, is using blockchain technology to connect consumers directly with producers, essentially creating a decentralized system for trading energy.
Armand Domuta, CEO of Restart Energy, describes their recently launched platform: "The goal is to connect energy consumers directly with producers using state-of-the-art IoT and block-chain technology. We are basically talking about installing intelligent sensors for consumers as well as renewable energy producers that take the data from existing meters and safely upload them directly into a blockchain decentralized database. With this modern infrastructure of transparent energy measurement (which can cost ten times less than a smart meter and which performs the same functions except for tele-control), it is possible to allocate and balance in real me (under one minute) the energy produced from renewable and intermittent sources between consumers and producers who have subscribed to the platform."
The concept of blockchain technology is, however, very new to Romania and its wide application will also depend on an appropriate regulatory framework, another aspect where Romania tends to lag behind compared to other EU countries.
Making Sense of Data: IoT and Analytics
According to Accenture, up to 150 Tb of data can be generated in a large industrial site in just one hour of operation, an astounding amount of information to organize and leverage to one's advantage. Turning data into valuable insights is proving particularly difficult in the energy industry in Romania because much of it is still held in pen and paper, making it very difficult to retrieve. Nevertheless, companies are focusing more and more on integrating smart tools in their daily activities.
One example is the increased adoption of IoT which uses sensors that can collect complex data about a company's assets and transmit it in real time, even when we are talking about remote or difficult to access locations. The key is to contextualize this data and apply intelligent filters, which is where analytics come in.
Artificial Intelligence has also seen huge advancements, with new algorithms developed that allow machines to learn from experience and perform tasks that were once only achievable by humans. "Our capabilities in terms of text mining make it possible to identify particular entities, relationships between them, the context of a discussion and even the feelings around it. We can identify how a company fares compared to its peers in a specific region, how its products are perceived and draw conclusions about what works well and can be replicated to other regions or areas where improvements are necessary." explained Stefan Baciu from SAS, a software company that operates in the niche area of advanced analytics.
"Storing electricity is very expensive so it is key for companies to accurately estimate the quantities needed. We are also able to estimate losses caused by infrastructure or fraudulent activities. Such projects already involve huge amounts of historical data but we also embed weather data, we can add if available macroeconomic data, such as the poverty index, the level of residential development, or investments made by companies in the area that are going to influence the regional demand." Stefan BACIU, Country Sales Manager, SAS
So How Smart is Romania?
At the end of the day, technology is an instrument put at our disposal to make lives safer and more comfortable. Romania's millennial generation is eagerly waiting for 5G technology, benefiting from an improved private healthcare ecosystem and working in BMS operated office buildings that did not exist a mere decade ago.
Smart factories are already a reality in Romania, though still in a relatively reduced number, and there are many cities in the country that have implemented projects that can be seen as elements of a smart city. According to the Romanian Association for Smart City and Mobility (ARSCM) there are over 300 smart city projects in Romania - E.ON, for instance, has recently finalized the first smart street lighting project in the country, in the commune of Frumuseni, Arad county.
"Romania is already reasonably automated and we are now stepping further into Industry 4.0. [...] Romania has a very fast internet connection and Romanians are early adopters, glad to get acquainted with new technologies, which makes me think that the transition will be relatively easy. As for smart grids and smart cities, they are further into the future, we will have to wait another 10-20 years." Corneliu BODEA, CEO, Adrem
But while the private sector is responsible for driving much of the change, it ultimately boils down to a national scale strategy. Electrogrup's AdrianFlorea points out that the approach must be a gradual one: "In Romania, the idea [of smart cities] is intriguing for many local decision makers but the limited understanding in terms of the need for a very strategic and holistic plan when embarking on this road makes the implementa on a difficult task [...] If you have a solid infrastructure, any other service like smart parking, smart public transporta on or smart lighting can be added afterwards."
Overall, Romania is well positioned for a digital future. But for the country to take full benefit of the opportunities presented by digital transformation it will have to count on all stakeholders working together, and better leverage its population's savviness when it comes to technology.